Razer Iskur Gaming Chair with Lumbar Support
PERFECT GAMING FORM
Keep the competition in your kill zone, as you enter your comfort zone with the Razer Iskur—an ergonomic gaming chair designed for posture-perfect hardcore gaming. When it comes to maintaining top form, we've always got your back.
ERGONOMIC LUMBAR SUPPORT SYSTEM
Unlike most gaming chairs which have lumbar pillows that shift over time or fixed supports that can't be adjusted, the Razer Iskur provides total lower back support with a built-in, fully adjustable lumbar curve that closely aligns to your spine—ensuring ideal gaming posture for maximum comfort in gaming marathons.
MULTI-LAYERED SYNTHETIC LEATHER
This ergonomic gaming chair is wrapped in a material that not only feels great, but is tougher and more durable than standard PU leather, making it better suited to withstand the peeling that comes from long hours of daily use.
HIGH DENSITY FOAM CUSHIONS
For the perfect balance of support and comfort, the Razer Iskur has plush, dense cushions which provide better contouring, allowing your weight to apply just enough pressure as they mold to support your unique body shape.
4D ARMRESTS
Enjoy fully customizable positioning with armrests that can be adjusted up and down, forwards and backwards, left and right, and rotated inwards or outwards.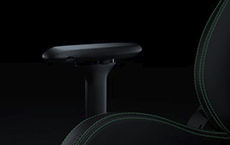 **Please read before purchasing**
All our products are purchased from the trusted and authorised distributors and our warehouse is secured with CCTVs to avoid any mishandling and any form of inappropriate behavior/action from our staff. We have been in the business for more than 20 years and we always uphold our ethics, values, and standards. All our products are handed over to our customers in their original form since we received them from the supplier. New and sealed. We will not repackage or reseal the products for sales. Therefore, any product sold on this platform will not be refunded if the buyer suspects that the item ordered is tempered. If the buyer felt that the item was severely damaged during delivery, kindly use the official channel provided by the platform to file for a claim/dispute.